Profit Management….
….is obviously a critical business function.
Naturally, one of the key things a business must do to cover its operating costs and thrive, is to manage its profits as much as its costs.
Your Chef's Book provides several tools to help you with this that compliment the tools provided for cost management.
Gross Profit %
You can set your GP % to whatever you prefer for each recipe.
Chef's Book uses this with your portion costs to recommend a minimum menu price needed to hit this GP.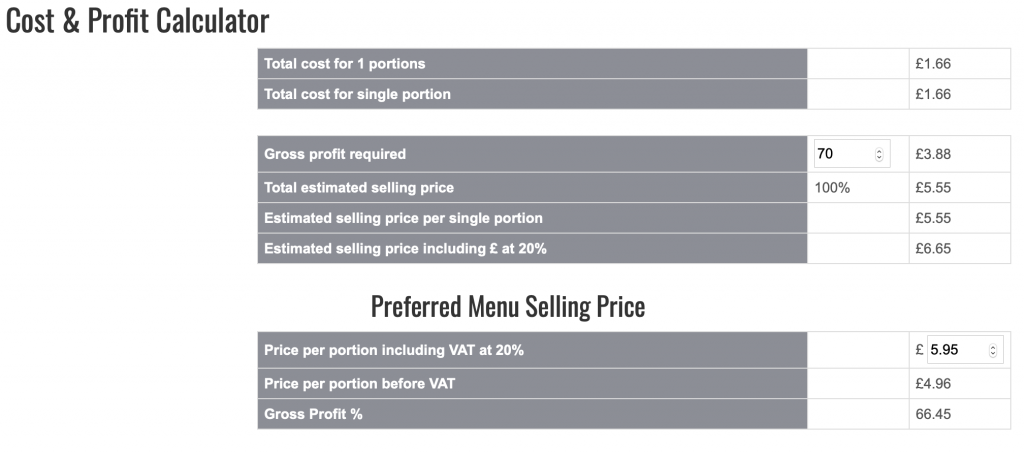 Sales Tax (VAT)
And just to stop any confusion, Chef's Book shows both selling prices with and without VAT.
For businesses outside the UK, this rate can be changed locally on your own "Manage" page
Menu Selling Price
Each plated recipe lets you add your own menu price too.
This in turn shows you what you actual achieved GP will be if that price is charged.


Ingredient Updates
As ingredient prices change, all recipe and menu calculations are updated instantly too.
Checking your GP checker in your menus, shows if all dishes are hitting GP. If not it gives you the opportunity to review the dishes involved.
Menu Financials
And finally Menus can help you profitably plan menus for events, a la carte and set price menus